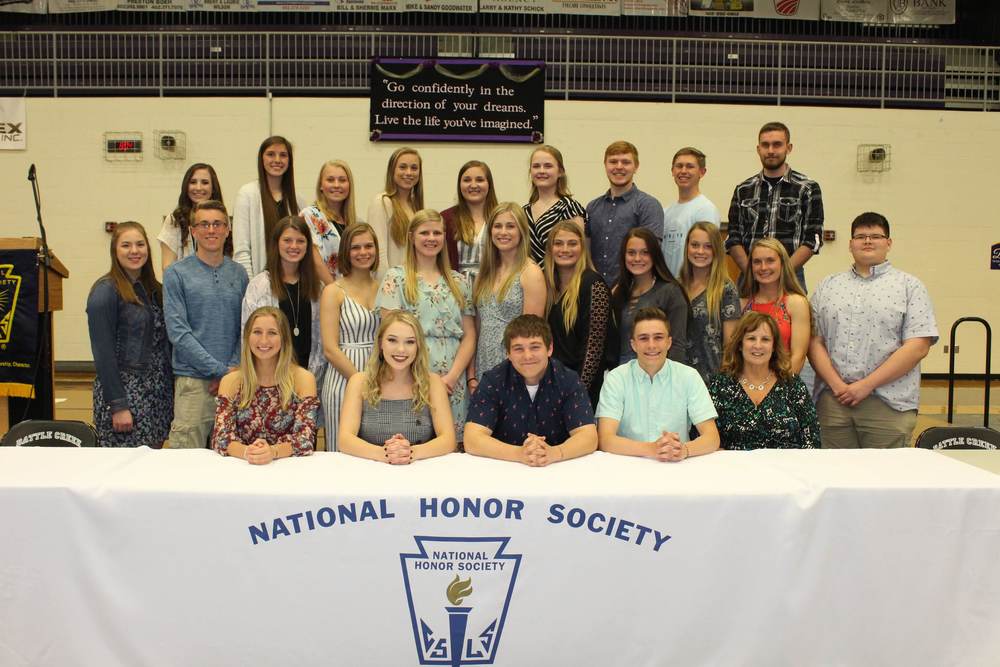 Honors Night 2019
Cyndi Rotter-Hansen
Wednesday, May 08, 2019
Honors Night 2019
submitted by Ms. Rotter-Hansen, National Honor Society adviser
Battle Creek's National Honor Society presented Honors Night 2019 on May 7, 2019. The evening began with the traditional candlelighting induction ceremony. Cora Gillespie(president) led Austin Marx(vice president), Caydon McCracken(secretary) Shelby Obst(treasurer) and members Maisey Clausen, Curtis Eickhoff, Chloe Volk, Makayla Ruge, Stacey Frisch, Makenna Taake, Zach Zohner, Riley Seifert, Abigail Meinke, Madaline Taake, Bailey Hurlburt and adviser Ms. Rotter-Hansen into the gym. New inducted members were Brandon Lodge, Britney Kreikemeier, Dylan Mettler, Megan Lutt, Payton Kersten, Renee Brummels, BriAnna Zohner, Reece Bode, and Mikayla Miller.
NHS Officers for the 2019-2020 school year are President: Stacey Frisch, Vice-President Riley Seifert; Secretary/ Treasurer: Zach Zohner;
General Awards were then presented to the 9-12 students. After the BC Choir performed, special awards were given to the following people:
Outstanding Math Awards: Golden Calculator Award: Caydon McCracken
Outstanding Social Sciences Awards: Caydon McCracken
Outstanding English Award: Cora Gillespie
National School Choral Award & Choir Student of the Year: Hannah Maslonka
John Philips Sousa Award: Britney Kreikemeier
Class C All State Honor Band Recognition: Hannah Maslonka, Britney Kreikemeier, Zoe Hassler, Mikayla Miller, Tanner Oestreich, Jimmy Loutzenhiser, Ethan Mille, Kaleb Kummer, Jeston Hassler, Raina Lade, Ben Weinandt honorable mention
Artist of the Year Award: Kylee McLean
Robotics MVP Award: Parker Anderson, James Loutzenhiser
Omaha World Herald All-Academic Program, Honorable Mention: Caydon McCracken & Cora Gillespie
President's Award for Educational Achievement ACT 26 or higher and/or GPA 3.5 and higher: Parker Anderson, Cora Gillespie, Caydon McCracken, McKinzie Miller
Girls State Representative: Kylee McLean Alternate: Britney Kreikemeier
Boys State Representative: Slate Kraft
1st and 2nd in the Class: 12th grade: Caydon McCracken, Cora Gillespie; 11th grade: (1st) Stacey Frisch
(2nd) Zach Zohner; 10th grade: (1st) Megan Lutt (2nd) Payton Kersten; 9th grade- (1st) Landon Olson
(2nd- 3 way tie)- Haley Hrabanek, Joslyn Hrabanek, Kenna Pochop
Superintendent Luhr presented staff service plaques to Heather Tillotson (20 years). (Teresa Christensen and Robbie Trudeau were not able to attend to receive their 25 years plaque).
The evening ended with the faculty naming senior Austin Marx Student of the Year.