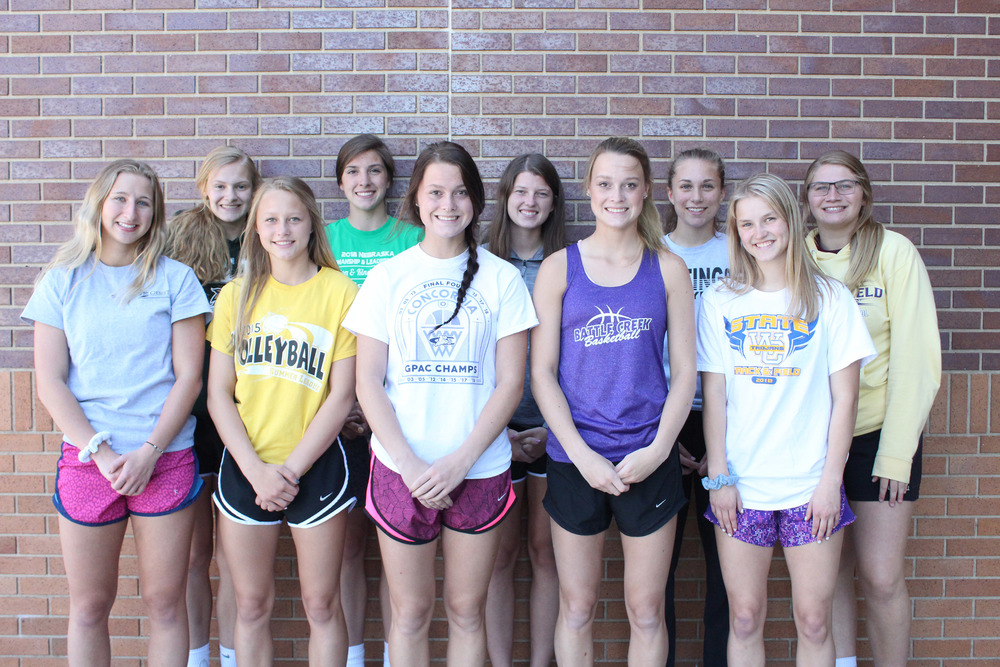 Ten Bravettes Punch Tickets to Omaha
Angela Gray
Monday, May 13, 2019
Congratulations go out to the Bravettes who claimed their third consecutive district championship at Thursday's district competition held at Norfolk Catholic. Head coach Kyle Finke had ten athletes qualify for the Nebraska State Track and Field Championships to be held this coming weekend at Omaha's Burke Stadium.
Claiming two district gold medals, sophomore Renee Brummels led the squad in district action. She won both the triple and long jump events and also finished with silver in the 100 meter hurdles. She will compete in all three events in Omaha.
Fellow jumper Makenna Taake finished just behind Brummels in the jumps to qualify in both the long and triple events as well. In addition, Taake will also compete as a member of the sprint relay squad that claimed the top spot at districts. She will anchor the squad in that event. Fellow relay members also qualifying include senior Shelby Obst, junior Madi Taake and freshman Paytyn Taake. All were district champs in the event.
Obst also secured a lane assignment in the 200 meter dash down at state, finishing second in the event at districts. In addition to her role in the sprint relay, freshman Paytyn Taake will also be competing in the 100 meter dash as well as in the 4x400 meter relay with teammates Riley Seifert, BriAnna Zohner and Tria McLean. P. Taake, Seifert, Zohner and McLean finished as district champs in that relay to earn their spot in Omaha, while Taake finished in third in the 100 meter dash but was able to qualify with a fast time statewide.
Zohner and McLean will also be multi-event athletes in Omaha. In addition to her role on the relay, McLean will also be competing in the high jump. She finished in second place at districts to earn her spot. Zohner claimed a second place finish in the 300 meter hurdles and was an instant qualifier in that event, but her third place finish in the 100 meter hurdles got in with a fast time statewide.
Probably least surprising was the district performance by junior thrower Abigail Meinke who will throw the shot put in Omaha once again. Meinke is a three time state qualifier in the event. At districts, she claimed the top spot with a throw of 40' 11", tying her best throw of the season.
Later that evening after all had returned home following district action, the team learned that freshman Madeline Oltmanns had also earned a spot to compete in Omaha following her fourth place finish in the 100 meter hurdle race. Oltmanns will join teammates Brummels and Zohner for a wave of purple in the event at state. The three will no doubt push each other all week preparing and at Burke Stadium this weekend.
Best wishes to the entire squad on a great season! We will all be pushing for you this weekend!