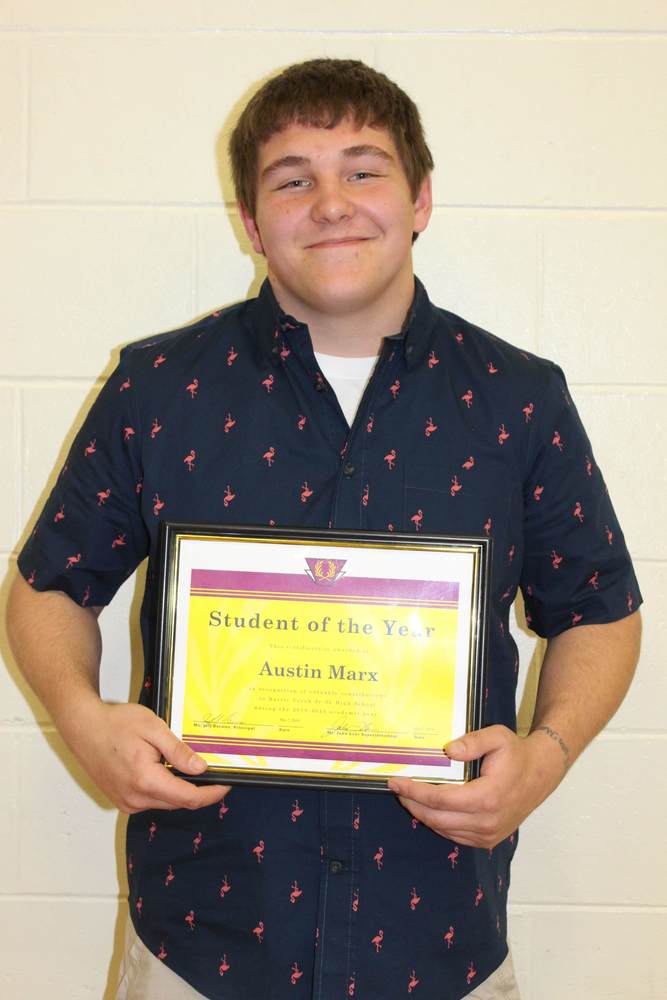 2019 Student of the Year: Austin Marx
Cyndi Rotter-Hansen
Wednesday, May 08, 2019
BCPS is happy to announce Austin Marx as the 2018-2019 BCHS Student of the Year. The coveted award is based on having strong character, active involvement in school, and great participation in activities. Each nominee must have been a "Student of the Month" before the teaching staff votes on the final award.
Superintendent Jake Luhr had this to say about Austin when presenting him with this award: "This year's winner was one of the first students I had the pleasure to meet. A firm handshake was my first indication of how impressive this student was. The short conversation that followed, I knew this student was pretty darn special. After a year of observing this student's involvement in school, their competitiveness, their compassion for others, and their outstanding character, I would like to ask Austin Marx to come to the stage.Austin will knock the crap out of an opposing player on the football field and follow it up with a pat on the back after he helps the other guy up. He will not back down from any challenge on the wrestling mat, regardless of how much weight he is giving up to an opponent. He can sit down in front of a computer, learn a new program, design an irrigation pivot, and have it printing in a matter of days. He is a very talented, yet very humble young man. Austin is a true and genuine friend to everyone. I am extremely proud to present the 2018-2019 Student of the Year Award to Austin Marx."
The entire staff and student body would like to congratulate Austin! Well done!