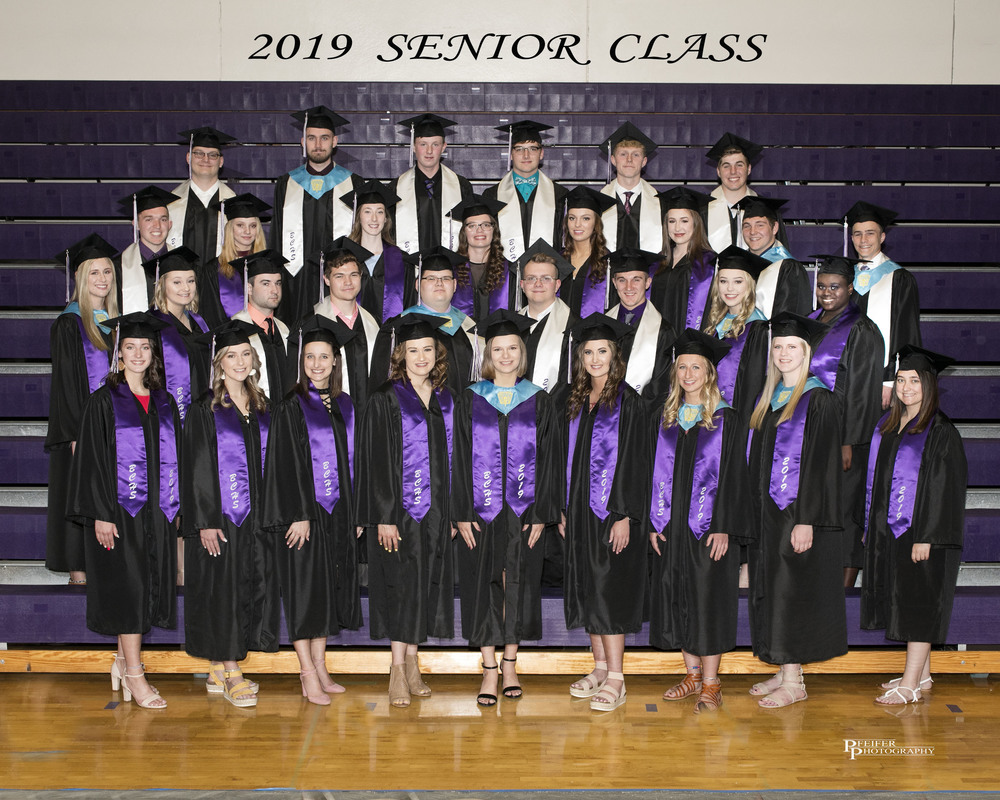 Battle Creek High School Graduation 2019
Cathy Thompson
Monday, May 13, 2019
The Battle Creek High School Commencement Exercises for the Class of 2019 was held on Saturday, May 11, 2019 at 3:00 pm in the Battle Creek High School Gymnasium. There were 32 graduates in this year's senior class.
The class colors were black, silver, and purple. The class flower was a yellow rose and the class motto was "Go confidently in the direction of your dreams. Live the life you've imagined." The student's recognized as graduating with highest honors were Parker Anderson, Maisey Clausen, Curtis Eickhoff, Cora Gillespie, Brandon Lodge, Caydon McCracken, Shelby Obst, and Chloe Volk. Student's recognized with high honors were Caitlyn Hitz, Austin Marx, Parker Pokorney, and Makayla Ruge. Those graduating with honors were Brynn Hamer, Rachel Schlote, and Rebekah McCaffrey. Caydon McCracken, son of Adam and Jacki McCracken earned class Valedictorian, and the class Salutatorian was Cora Gillespie, daughter of Vickie Gillespie and Dan Gillespie. A Valedictorian and Salutatorian Address were given by the students respectively during the graduation ceremony. Brandon Lodge, son of Tom and Sue Lodge, was third in the class and he gave the class thank you speech. Fourth in the class and presenting the class motto speech was Shelby Obst, daughter of Steve and Angie Obst.
The processional and recessional were provided by the Battle Creek 7-12 grade band under the direction of Mrs. Connie Lade. Battle Creek High School choir members performed the song "I Was Here" under the direction of Ms. Laura Johns. The class also dedicated the song "On My Way" to their parents. The graduation marshals were the Girls' and Boys' State representatives, Kylee McLean and Slate Kraft. Serving as ushers were Stacey Frisch, Tria McLean, Makenna Taake, and Zach Zohner.