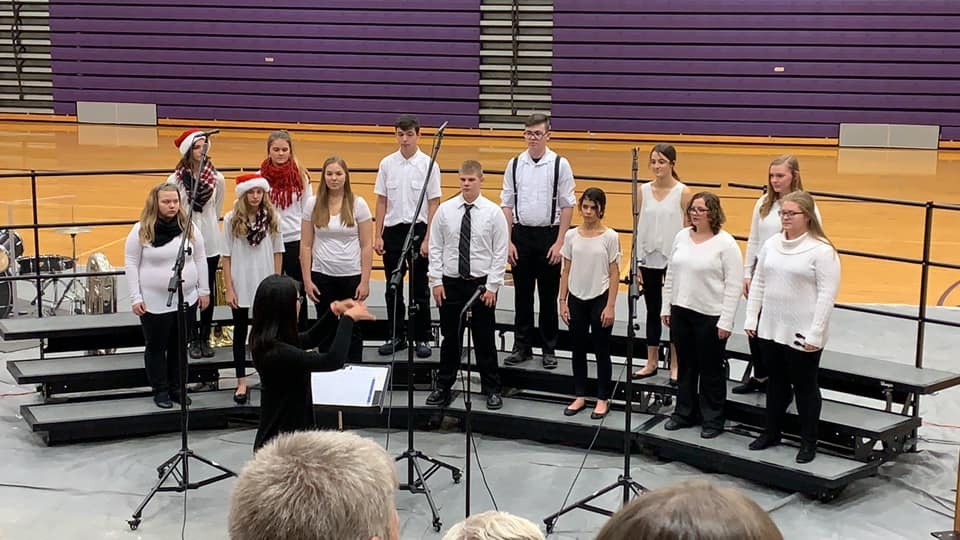 Jr./Sr. High Musicians Hold Annual Christmas Concert
By Alex McKeown & Meghan McCracken
Monday, January 06, 2020
On Tuesday, December 17th, the High School and Junior High Bands and Choirs got together to put on their annual Christmas concert. A variety of groups performed at both the High School and Junior High levels.
On the vocal side of things, the 7th grade choir started off the night by singing Deck the Hall with Jingle Bells arr. Russell Robinson and The Chipmunk Song arr. Jeff Funk. They were followed by the 8th grade choir, who also performed two songs: Do You Hear What I Hear? arr. by Harry Simeone and Christmas Day Is on Its Way by Cynthia Gray. Following that, the vocal duet of Hannah Tillman and Ashlynn Rath performed Where are you Christmas? as arranged by Mac Huff. The final vocal group to perform was the Senior High Choir, who sang Silent Night arranged by Avi Kaplan and I Saw Three Ships by John Leavitt.
For the bands, the Senior High band started out with We Three Kings arr. Paul Jennings followed by Rudolph In Wonderland arr. James Curnow. The Junior High Band followed with performances of Joyous Season arr. Andrew Balenet and Santa at the Symphony arr. Mark Williams.
The Senior High Choir will be performing again on Monday, January 13th, in Albion at the Boone Central Choral Clinic and the Senior High Concert Band will perform for the public next on April 7th for their Pre-Contest Concert.
Great job to all the performers, and thank you to everyone who came out to support!