Attention All Battle Creek Alumni!!!!!!
The all school reunion is set for Saturday, July 16th 2022 at Divots in Norfolk.
If anyone has new contact information please contact
Mike Kirby mikekirby0901@gmail.com or 54351 839th Rd, Battle Creek NE 68715
Gloria Hansen at noglo@volkracing.net 1202 Blue stem Circle Norfolk NE 68701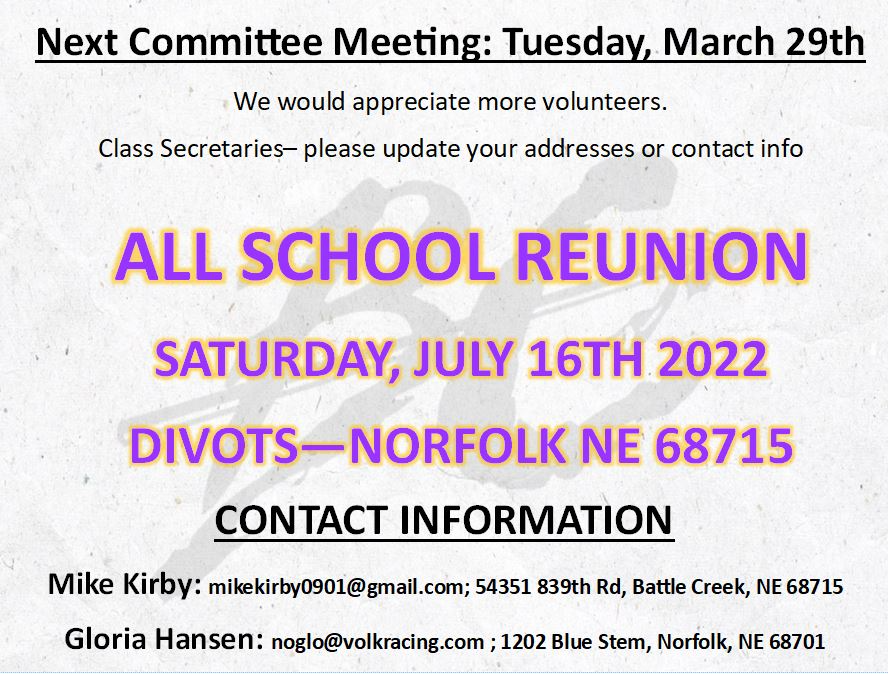 All School Reunion
Next Committee meeting is April 19th, 6 PM, at Battle Creek High School.
At the April meeting they will be handing out information to be mailed to each member of the Battle Creek High school alumni, informing them of days/times of events and the menu.
The best situation for the Alumni Committee, would be to have someone at this meeting representing each class to pass along the information.
If anyone has any other ideas or would like to make other arrangements, please contact Mike Kirby at 402-750-2356 or mikekirby0901@gmail.com
Our main ambition is to keep tradition alive in the future.
Thank you,
Mike Kirby